As some of you may remember, my sweet hubs o' mine gifted me with the best present for my birthday, the most coveted
Diana Dreamer
. Oh I loved this beautiful little plastic toy camera. Its lovely mint color, its simple manual features. It shoots 120mm square format film and produces lo-
fi
dreamy pictures complete with vignettes and
lightleaks
. Oh the possibilities! Oh the fun and adventures Diana and I were going to have in Vietnam. I was so excited, I brought her home and we totally became
BFF's
.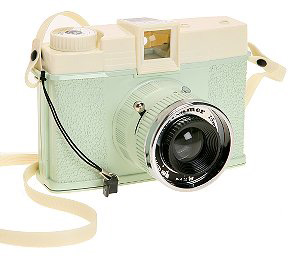 But alas, it was not to be. Diana was the first of many
causalities
on our Vietnam trip. Overzealous in the photographic possibilities the motherland would bring, I packed 4 (FOUR!)
cameras
with me to Vietnam, all tucked safely (or so I thought) in my trusty messenger bag. I still remember the first day in the street market of Saigon, seeing barefoot women selling their brightly colored fruit and excitedly reaching into my bag for my sweet Diana... and finding her even lighter than she already was. I looked down in horror. The lens had completely broken off, its entails consisting of two small black and red wires, snapped in half and dangling sadly out of her body. Her charming plastic construct was the cause of her own demise. I did shed a tear or two for my little Diana.
Right before I left for Vietnam, I had dropped off my first test roll to be developed. I almost forgot about it until I passed by the processing center today and pulled up to pick them up. Here are some of the shots of my nephew
Thaden
playing in my parents backyard. Notice the soft dreamy vintage coloring, the vignetting of the corners, the slight distortion. Love it. Here's to you Diana!
p.s. I now have about 10 rolls of highly sought after 120mm film, both color and black and white. should I invest in a new
diana
? or should I try maybe a
holga
? they seem of sounder construct.